A Kona fishing tournament is never over until the last hook is pulled from the water.  What's more, tournaments here are usually decided as much by the fish missed as the fish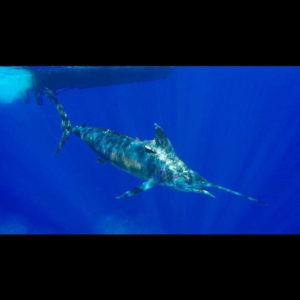 caught and even by the "count back" time the fish was caught.  So it was for last week's 26th Tag and Release Tournament (TART 26).  Capt. Kevin Nakamaru's team on Northern Lights 2 won the five-day event only after what the veteran skipper called a "heartburn afternoon" on the final day.
FIFTH 2016 BLUE MARLIN GRANDER NOT HERE
In 2015, the Big Island stunned the blue marlin world with five granders (marlin of 1,000 pounds or more).  So far, no Kona grander this year.  What a difference a year makes.
In the Azores on Saturday, the boat Xacara boated a 1,042-pound blue marlin to score the world's fifth blue marlin grander.
So far in 2016, grander blue marlin have been caught in Cape Verdes (1,290 and 1,234 pounds), Raiatea (1,034), and Tonga (1,065), but not yet in Hawaii.
AHI CRUISING THE SURFLINE
On Friday, the charterboat Ahi Lani hooked a 110-pound ahi in what seems like an unlikely place.  Cyrus Widhalm says the fish hit an ono lure as Ahi Lani was turning out of ono lane.  Being world travlers, ahi are usually found well offshore — even far offshore.  Ono lane is just outside the surfline in waters from 30 to 40 fathoms.
WAR ZONE VIDEOS OF THE WEEK
It's a war offshore, and I am not talking about the intense competition between tournament teams.  You will understand by watching two videos online.
Kona Iki Trollers Events coming up
The Kona Iki Trollers Light Tackle Tournament is set for August 27. For the rest of the story
Big-Fish List for 2016. The list recognizes the biggest fish caught on rod and reel (except opakapaka and onaga, for which we'll accept hand line catches) in West Hawaii waters for 2016 in each of 22 categories. They are listed by species, weight, angler, skipper, boat, and date. The list is updated every Sunday throughout the year (copyright 2016 by Jim Rizzuto). If we have overlooked you, give us a call (885-4208) or send an e-mail ([email protected]).
Blue marlin, 865, Louis Paulo and grandson Kalamaokalani Kelekolio-Crivello, Anela okaikea. April 16.
Black marlin, 310, Tim Flint, Capt. Butch Chee, Duck Soup, June 21
Ahi, 233, David Diaz, Capt. Bobby Cherry, Cherry Pit II, June 5
Bigeye tuna, 173, Dave Remillard, Miles Nakahara, Puamana II. Jan. 11.
Striped marlin, 136.5, Mitchell Romero, Capt. Guy Terwilliger, High Flier. Jan 22.
Spearfish, 54, Nick Humpries, Capt. Shawn Rotella, Night Runner, Feb. 26
Sailfish, 91, Mike Foster, Capt. Shawn Rotella, Night Runner. Mar. 24.
Mahimahi, 53, Nainoa Murtagh, Aulani. Feb. 10.
Ono, 62, Charlie Ford, Capt. Shawn Rotella, Night Runner. Mar. 18.
Kaku, (barracuda), 49.5, Koi Lorance and Tyson Fukuyama, Miki.  May 7.
Kahala, 70, Jessica Yell, Capt. Shawn Rotella, Night Runner. Jan 22.
Ulua (giant trevally), 74, Bochan Johnson, from shore. Apr 3.
Omilu (bluefin trevally), 18.5, Mikey McCrum, Shoreline. May 13
Otaru (skipjack tuna), 28. 5, Ray Mohammond, Capt. Jim Wigzell, Go Get Em
Broadbill swordfish, 224, Matthew Bolton, Kahele, June 14
Ahipalaha (albacore), 52.5, Devin Hallingstad, kayak, Aug 13
Kawakawa, 23, Tom Schachet, Capt. Shawn Rotella, Night Runner. July 1
Kamanu (rainbow runner), 12.5. Tom Britton, kayak. Apr. 13
Opakapaka (pink snapper), 9.5. Butch Chee, Sueto Matsumoto, Sandee. Mar. 12.
Onaga (ulaula ko`aie), 19.5, Greg Hong, Kevin Shiraki, Erin Kai. Feb 25.
Uku (gray snapper), 31, Josh Fulton, kayak. July 31.
O`io (bonefish), (vacant)
Beasts of the week (marlin weighing 500 pounds or more).
August 15: Blue marlin (549) Bronson Cablay, Kaikane
August 17: Blue marlin (695) Salem Alsabah, Capt. Joe Schumaker, Fire Hatt
Tag and Release
August 15: Blue marlin (180) Will Blowers, Capt. Boyd DeCoito, Foxy Lady
August 15: Blue marlin (125) Brett Williams, (150) Grant Williams, Capt. Marlin Parker, Marlin Magic II
August 15: Blue marlin (150) Meredith, Capt. Jeff Kahl, Piper
August 16: Blue marlin (500) Nick DeVito, Capt. James Dean, Blue Hawaii
August 16: Blue marlin (220) Jennifer Ahearn, Capt. Kenny Fogarty, Hula Girl
August 16: Blue marlin (275) Chris Iseley, Capt. Scott Fuller, JR's Hooker
August 16: Blue marlin (120 and 160) Matt Johnson, Capt. Marlin Parker, Marlin Magic II
August 17: Blue marlin (225) Ablat Kabashi, Capt. Scott Fuller, JR's Hooker
August 17: Blue marlin (125) Travers Clark, (350) Matt Clark, Capt. Tim Hicks, Illusions
August 17: Blue marlin (175) Matt Billington, Capt. Steve Tarbill, Miss Mojo
August 17: Blue marlin (175) Eduardo Bigot, spearfish (25) Phillipe Bigot, Capt. Chris Choy, Sapo
August 17: Blue marlin (150) Alex Uy, Capt. Chip Fischer, Hanamana
August 18: Blue marlin (700) Logan Grubb, Capt. Reuben Rubio, Sundowner
August 18: Blue marlin (150) Will Clayton, Capt. Chris Cawthon, Ohana
August 18: Blue marlin (150 and 150) Mark Hewicker, Capt. Joe Schumaker, Fire Hatt
August 18: Blue marlin (120 and 175) Carol Herren, Capt. Bruce Herren, Raptor
August 19: Blue marlin (200) Pat Brian, Capt. Mike Holtz, Jun Ken Po
August 20: Blue marlin (150 and 200) Pat Brian, Capt. Mike Holtz, Jun Ken Po
August 20: Blue marlin (150, 175, and 200) Thierry Leveque, Capt. James Dean, Blue Hawaii
Notable
August 16: Ahi (121.5) Lee Hequeston, Capt. Chad Contessa, Bite Me I
August 17: Blue marlin (476) Olivia Clark, Capt, Tim Hicks, Illusions
August 17: Ahi (127) Matt Billington, Capt. Steve Tarbill, Miss Mojo
August 18: Blue marlin (466) David Magallanes, Kona Pearl II
August 19: Ono (36.5) Steven Kroon, Capt. Chris Choy, Sapo
August 20: Mahimahi (6 fish to 15 pounds) Scott Kenton, Capt. Jeff Heintz, Linda Sue IV