KONA GRANDER HUNT UNDERWAY
By this time last year, the Kona fleet had recorded two granders.  The first, a 1,058-pounder, came to the dock in February on Ihu Nui with Capt. McGrew Rice and crew Carlton Arai.  The second, at 1,226.5 pounds, went into the books on May 27, 2015, thanks to Capt. Chip Van Mols and crew Shawn Bebeau on the charterboat Luna.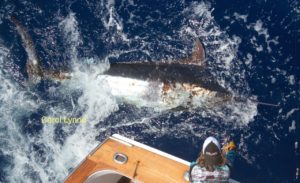 With none reported so far in 2016, where are the granders this year?  They are here but as yet have proved to be uncatchable, like the one that excited Capt. Marlin Parker's guests on Marlin Magic II last Monday.
The day would prove to be very busy for anglers Patrick Zuillebert and Sheherazade "Shey" Lei-Sougani, despite a late start. When they showed up an hour late for their charter, Zuillebert said not to worry because he was a lucky angler.  Then he proved it when Marlin Magic II hooked a beast 15 minutes out of Honokohau Harbor off Kaiwi Point.
ODDEST CATCHES OF THE WEEK
Call this one "catch and catch again."  A year ago (May 6, 2015 to be precise), the charterboat Raptor caught a spearfish off Keauhou.  Capt. Bruce Herren and his wife Carol tagged it and released it in the slim hopes that the slender fish would be caught again.  A recovery might provide useful information, but billfish tag recoveries are rare.  Normally less than 1%.
The Herrens got the good news that their spearfish was recovered on April 20, just about a year later.  It was caught by a commercial fishing vessel.  An observor aboard the vessel followed through by reporting the recapture.
None weighed but check out the big ones in the catch report.
Releases
May 22: Blue marlin (170) Craig Crumps, Capt. Howard Whitcomb, Intrepid
May 22: Blue marlin (150) Unknown, Capt. Boyd DeCoito, Foxy Lady
May 23: Blue marlin (650) Charles Fowler, Capt. Guy Terwilliger, High Flier
May 23: Blue marlin (200) Unknown, Capt. Ruben Rubio, Ichiban
May 23: Blue marlin (675) Sheherazade Lel-Sougani, (115) Patrick Zuillebert, Capt. Marlin Parker, Marlin Magic II
May 23: Blue marlin (200) Blake Jacobsen, Capt. Tim Hicks, Illusions
May 24: Blue marlin (180) Jon Hall, Capt. Trevor Child, Maverick
May 24: Blue marlin (225) Carlos Villareal, Capt. Bruce Herren, Raptor (Wounded Warriors)
May 24: Blue marlin (120 and 160) Steve Van Den Berg, Capt. Marlin Parker, Marlin Magic II
May 25: Blue marlin (350) Patrick Prunty, Capt. Kenny Fogarty, Makana Lani
May 25: Blue marlin (150) Nina Fritech, Capt. Bruce Herren, Raptor
May 25: Blue marlin (250) Terry, Capt. Shawn Palmer, Camelot
May 25: Blue marlin (75) Peter Marsden, Capt. Marlin Parker, Marlin Magic II
May 25: Blue marlin (400) Tim, Capt. Bobby Cherry, Cherry Pit II
May 25: Spearfish (35 and 35) Unknown, Capt. Neal Isaacs, Anxious
May 25: Blue marlin (150) Heather Bell, Capt. Steve Fassbender, Teresa
May 25: Blue marlin (400) Unknown, Capt. Bobby Cherry, Cherry Pit II
May 25: Spearfish (35, 35, 35, and 35) Richard Angler, Capt. Joe Schumaker, Fire Hatt
May 26: Blue marlin (175), Capt. Bruce Herren, Raptor
May 26: Blue marlin (350) Arden Laughter, Capt. Chuck Wilson, Fire Hatt
May 26: Blue marlin (200) Nick Choat, Capt. Bill Casey, Marlin Grando
May 26: Spearfish (25) Steve Lynn, Capt. Kenny Fogarty, Hula Girl
May 28: Blue marlin (100) Collin Gibson, (130) Kimberly Serrano, Capt. Marlin Parker, Marlin Magic II
May 28: Blue marlin (175) Jane Stewart, (225) Jim Stewart, Capt. Kenny Fogarty, Makana Lani
May 28: Blue marlin (400), April and Mark Johnston, Makau
Notables:
May 23: Ahi (104, 132, and 159) Steve Lynne, Capt. Russ Nitta, Lepika
May 26: Mahimahi (50) Jeff Lorie, Capt. Jeff Heintz, Linda Sue IV
May 26: Spearfish (20), Capt. Kent Mongreig, Sea Wife II
May 27: Ahi (119), Miki
May 27: Ahi (105), spearfish 30.5 Bite Me 1
May 28: Broadbill swordfish (214) Josh and Duane Bunch, Koinonia
May 28: Ono (47) Megan Lee, Capt. Cyrus Widhalm, Ahi Lani