Oh, to be in Kona when the bite turns on like it did last week.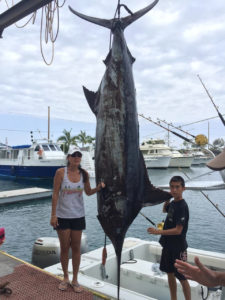 Some credit the luck to its being the week before Saturday's full moon. Maybe the currents brought in a new mass of water filled with fish.  Or maybe the spring runs we've been expecting have finally begun to arrive.
No matter the cause, Capt. Rich Youngs could tell you the effect when the action started last Monday.  He was hosting a party from British Columbia on his boat A`u Struck about an hour before the morning tide change when he began seeing boats hook up around him.
HOT BITES, HOT BAITS, HOT BOATS
On Friday, the charterboat Luna hooked 5 blue marlin, catching 3 of them to be released, went 3 for 4 on shortbill spearfish and boated an ono. The previous day, the Luna gang boated two spearfish after starting the week going 3 for 3 on blues up to 200 pounds and 3 of 5 spearfish. Skipper Chip Van Mols summed it up with "Summer is here."
NOT JUST THE PROS 
When Kona is "going off," it's not just the pro fishermen who get in on the action.
On Thusday, Ernie Clayton took some friends along for a trip on his trailer boat Hana Hou.  They found action on the way to VV-buoy.
"As we passed over the ledge both riggers went off, Ernie said.  "I cleared the short lines while my friends boated ono of 18- and 20-pounds.  It was 9:30 am and we had two in the box."
Beasts of the week (marlin weighing 500 pounds or more).
May 21: Blue marlin (536) Ted Welch, Capt. Ruben Rubio, Sundowner
May 21: Blue marlin (698) Melanie Kelemoma, Marcus Kelekoma, Kamakana
Release
May 15: Blue marlin (125), spearfish (35, 35, and 40) Craig Lindner, Capt. Teddy Hoogs, Bwana
May 16: Blue marlin (150) Jeff Backshies, black marlin (200) Brian Benjamin, Capt. Kent Mongreig, Sea Wife II
May 16: Spearfish (40) Mike Henry, spearfish (40) Joe Glasnapp, Capt. Chuck Wilson, Fire Hatt
May 16: Blue marlin (225) Jack Tapscott, Capt. Marlin Parker, Marlin Magic II
May 16: Spearfish (35) Elfreida Crawford, Capt. Kent Mongreig, Sea Wife II
May 17: Spearfish (30) Ian Parker, Capt. Kenny Fogarty, Makana Lani
May 17: Blue marlin (175) Geoff Coopman, Capt. Kenny Fogarty, Makana Lani
May 17: Blue marlin (450) Paul Walton, Capt. James Dean, Blue Hawaii
May 18: Blue marlin (250) Unknown, Capt. Shawn Palmer, Camelot
May 18: Blue marlin (200) Dan Setlak, Capt. Chuck Wilson, Fire Hatt
May 18: Spearfish (30) Shelby Turbin, Capt. Tony Clark, Ihu Nui II
May 18: Blue marlin (150) Dawn Toltini, Capt. Boyd DeCoito, Foxy Lady
May 18: Blue marlin (300) Bob Cruise, Capt. Neal Isaacs, Anxious
May 19: Blue marlin (125) Unknown, Capt. Steve Epstein, Huntress
May 20: Blue marlin (100) Samantha Schmitt, (100) Gene Schmitt, Capt. David Crawford, Kona Blue
May 21: Blue marlin (150) Ari Greenman, Capt. Boyd DeCoito, Foxy Lady
May 21: Blue marlin (150) Unknown, Capt. Tim Hicks, Illusions
May 21: Blue marlin (200) Patty Vandentoorn, Capt. Steve Epstein, Huntress
May 21: Blue marlin (125, 125, and 175) Carol Herren, Capt. Bruce Herren, Raptor
Notables:
May 15: Ahi (193) Brad Dinelle, Capt. Andy, Bite Me 3
May 18: Blue marlin (405) Dan Crow, Capt. Dave Mayers, Tai Pan V
May 21: Swordfish (333.5) Joshua Bunch, Capt. Duane Bunch, Koinonia