Here's Chapter Two in the saga of the spearfish-look-alike trolling lure.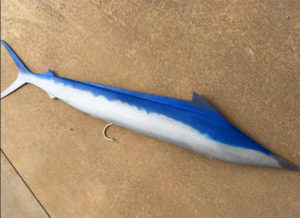 In Chapter One, last week, you read the story of the 42-inch lure made to look and swim like a shortbill spearfish. The tempting rubber shortbill was the brainchild of Capt. Bryan Toney who rigged it with a big hook and set it swimming behind Marlin Magic. Big marlin eat spearfish so it was only a matter of time until one of Kona's legendary giants climbed on the lure.
So begins Chapter Two. It happened on Tuesday. Kona's biggest fish of the year saw it, liked it, grabbed it — and missed the hook.
The giant fish left a big hole in the water, Bryan said, but it did not come tight against the drag of the reel. The big marlin had missed the 14/0 hook where it protruded out of the rubber belly.
Instead of making a second, more determined, try at the big lure, it raced across the wake to attack a much smaller lure. Its second choice was only smaller by comparison to the 42-incher because the Marlin Magic XXL Ruckus it chose would normally be about the biggest lure in any Kona wake.
CHASING THE PACIFIC BLUE MARLIN RECORD
Jada Holt recently got official word that her 1,305-pound Atlantic blue marlin was approved as the Ladies' 130-pound class world record. It is now on record as the largest blue marlin ever caught by a female angler. She caught that one at Ascension Island with a team that included Capt. Brian Toney, Jada's dad Capt. Chip Van Mols and her husband Dan Holt.
Now Jada and her dad are set to go for the Ladies' Pacific blue marlin world record. So far, it looks like she has already had three shots at it including a giant fish she hooked on Thursday.  For the rest of the story.
ODDEST CATCH OF THE WEEK?
If you want to catch a billfish from shore, go fly a kite.
Really. The right kite in the right wind can carry your line as far offshore as the amount of line you have on your reel. If you get all factors adjusted correctly, the kite will dap your bait on the surface in a very fish-attracting dance. Because the line literally drops down out of the sky, the leader is hidden from your intended target, which then has no reason to be wary of the bait.
For the last two years, John McMillin of Naalehu has successfully kite-fished off South Point with some spectacular results. On the trip that caught our interest, he hooked a marlin and fought it for 45 minutes before it broke free while he was trying to gaff it.
KAYAK KAMANU TAKES BIG FISH LIST LEAD
Kayaker Tom Britton boated a 12.5-pound kamanu (rainbow runner) to fill the vacant slot on our Big-Fish List. Tom says he has caught others from his kayak but "this was huge by comaprison." It is a good weight to kick off the competition, but our annual winner is usually 20 pounds or more.
SHORECASTER WHIPS 15-POUND OMILU
J. J. Balucan pulled in the year's biggest omilu to date while jigging a dead ballyhoo bait. The fish hit at 9:30 pm (omilu often feed at night) and fought J. J. for 20 minutes on light tackle. His hooked was tied to an 80-pound monofilament leader, which help thwart snags, fins, scutes, and teeth.
KAWAIHAE WAHINE TOURNAMENT APRIL 30
The 2016 Kawaihae Wahine Fishing Tournament is set for Saturday, April 30 and is run as a benefit to the Big Island Giving Tree. Teams have one main requirment, according to spokesman Ned Salvador: the angler must be a female. The crew can include guys and gals, but only a wahine can pull in the fish.
Awards go to the largest and smallest mahimahi and ono, catches in a miscellaneous category (other than mahimahi or ono) and the "Best Dressed Wahine Team."
Organizers are asked to make donations in the form of cash, checks, gift certificates, hotel accomodations and prizes. Look for applications at the Fish House in Kawaihae or Pacific Rim Fishing Supplies in Kona. For more information, contact Ned Salvador at 808-557-2063 or Lani Olsen-Chong at 808-936-0670.
HF&BA ONLINE AUCTION NOW OPEN
The Hawaii Fishing & Boating Association fund-raising auction is now open with many items of special interest, according to spokesperson Rick Gaffney. The auction is a benefit to support the organizations efforts on behalf of Honokohau Harbor.
To bid, go online at www.biddingforgood.com and search for Hawaii Fishing and Boating Association. The auction ends on April 24, 2016, so don't delay in submitting your best bids.
Big-Fish List for 2016. The list recognizes the biggest fish caught on rod and reel (except opakapaka and onaga, for which we'll accept hand line catches) in West Hawaii waters for 2016 in each of 22 categories. They are listed by species, weight, angler, skipper, boat, and date. The list is updated every Sunday throughout the year (copyright 2016 by Jim Rizzuto). If we have overlooked you, give us a call (885-4208) or send an e-mail ([email protected]).
Blue marlin, 802, Lou Groebner, Capt. Rocky Gauron, Go Get Em. Mar. 1.
Black marlin, 160.5, Jim Ives, Capt. Shawn Rotella, Night Runner. Mar. 30.
Ahi, 227, Capt. Russ Nitta, Lepika. Jan 6.
Bigeye tuna, 173, Dave Remillard, Miles Nakahara, Puamana II. Jan. 11.
Striped marlin, 136.5, Mitchell Romero, Capt. Guy Terwilliger, High Flier. Jan 22.
Spearfish, 54, Nick Humpries, Capt. Shawn Rotella, Night Runner, Feb. 26
Sailfish, 91, Mike Foster, Capt. Shawn Rotella, Night Runner. Mar. 24.
Mahimahi, 53, Nainoa Murtagh, Aulani. Feb. 10.
Ono, 62, Charlie Ford, Capt. Shawn Rotella, Night Runner. Mar. 18.
Kaku, (barracuda), (vacant)
Kahala, 70, Jessica Yell, Capt. Shawn Rotella, Night Runner. Jan 22.
Ulua (giant trevally), 74, Bochan Johnson, from shore. Apr 3.
Omilu (bluefin trevally), 15, J. J. Balucan, from shore. Apr. 10.
Otaru (skipjack tuna), 26, Randolph Fort, Capt. James Dean, Blue Hawaii. Marc 7.
Broadbill swordfish, (vacant)
Ahipalaha (albacore), (vacant)
Kawakawa, 18, Capt. Shawn Rotella, Night Runner. Apr. 2.
Kamanu (rainbow runner), 12.5. Tom Britton, kayak. Apr. 13
Opakapaka (pink snapper), 9.5. Butch Chee, Sueto Matsumoto, Sandee. Mar. 12.
Onaga (ulaula ko`aie), 19.5, Greg Hong, Kevin Shiraki, Erin Kai. Feb 25.
Uku (gray snapper), 17.5, Devin Hallingstad, kayak. Mar. 24.
O`io (bonefish), (vacant)
Beasts of the week (marlin weighing 500 pounds or more).
None weighed but look for several in the tag report
Releases
April 10: Blue marlin (200) Parke Beroltzheimer, Capt. Marlin Parker, Marlin Magic II
April 11: Blue marlin (200) Andy Drotleff, Capt. Tim Hicks, Illusions
April 12: Blue marlin (900) Chris Jones, Capt. Bryan Toney, Marlin Magic
April 12: Blue marlin (500) Unknown, Capt. Jeff Fay, Humdinger
April 15: Blue Marlin (225) Victoria Parker, Capt. Chris Cawthon, Ohana
April 16: Striped marlin (125 and 70) Carol Herren, Capt. Bruce Herren, Raptor
Notables:
April 13: Ulua (56.5) Mikey McCrum, Shoreline
April 13: Spearfish (40) Liz Brecher, Capt. Jean Nogues, High Noon
April 16: Ahi (124) Tom Buckner, Brian Hudson, Lowered Expectations